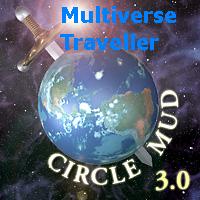 Return to Pandora Project
Welcome to the home of the now defunct home of Multiverse Traveler. It was based upon an idea from the original Secfenia RPG that was expanded further into a CircleMUD programmed world. The game existed near the start of the 21st century and required you to telnet into it. We have put together some of the original pages from the MUD here for your amusement.
NOTE: Multiverse Traveler died when the Server was shut down by the provider. We never reopened our doors.